When considering buying a home or selling a home in The Timbers Neighborhood in Parker, CO you better know the stats. Below you will find The Timbers Neighborhood, Parker, CO Market Report 2021.
My name is Steven Beam a Parker, CO Realtor that lives and sells in The Timbers Neighborhood. I've been keeping regular stats on the homes that have sold within The Timbers neighborhood, High Prairie Farms, Misty Pines, and The Pinery neighborhood for two decades. I have insider market knowledge that is a benefit to all of my clients. The chances are great that 20 years of experience will allow me to give you the best possible information about our area and The Timbers neighborhood.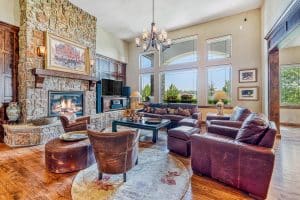 Why is The Timbers neighborhood so popular?
The answer is simple. Did you know that The Timbers was the #1 selling Custom Home Community in all of the Denver Metro areas for many years in a row? Homeowners love this neighborhood because of the custom homes, big lots, and of course the trees! Many lots and homes have long-range Colorado Rocky Mountain views too. It really is a respite from the hustle of being in the city. The sad part is that the lots are almost 100% sold out. In order to get a custom home in the future, you will need to go buy your own land and design and build your own home. The Timbers is truly one of the last custom home neighborhoods.
The Timbers Neighborhood, Parker, CO Market Report 2021.
When you are ready to buy or sell these would be used as a baseline to determine value. Depending on the size of the home, location, lot size, and features we could drill down and make more informed decisions about the value of the home you are buying or selling.
Homes Sold – 90
Average Days on Market – 14
The Average List Price $1,345,044
2021 Average Sale Price $1,352,366
Average $ per sqft (total sqft) $225.08
The Average $ per sqft (above ground sqft) $379.98
Average $ per sqft (finished sqft of the home) $248.52
The Average difference from Original Listing Price to Final Sale Price 99.87%
Average difference from Final Listing Price to final sale price was 100.81%.
The average difference from final listing price to final sale price was 100.81%. This shows us that people who initially listed their home for a higher asking price eventually lowered their price and then received over asking price offers. I saw this happen many times in 2021. This tells me it is OK to list a little higher in this market and lower the price if the activity is not meeting our expectations.
4 Things You Need to Know About Living in The Timbers Neighborhood
1. Location
The Timbers is located along Parker Rd about 5 miles south of Mainstreet in Parker, CO.
Commute times are, depending on traffic, 25 to 45 minutes to downtown Denver, Colorado. You can easily get downtown in 25 minutes throughout the day with light traffic.
2. Amenities
Residents of Bradbury Ranch have access to miles of paved and unpaved trails. There is also plenty of open space, pocket parks for children to play, and super easy access to Bayou Gulch Regional Park. Bayou Gulch Park has a mountain bike park, ball fields, playground, picnic shelter, and a fully fenced dog park. Residents in The Timbers also have the ability to join The Colorado Golf Club, The Pinery Country Club and The Club at Pradera.
3. Shopping and Dining Options
Residents living in The Timbers have access to shopping and dining options. You can dine in nearby restaurants in downtown Parker, CO, or hop over to Castle Rock and you have even more choices.
4. Homeowners Association (HOA)
The HOA costs of the neighborhood are quite low. HOA fees vary depending on your specific location, but they are about $295 per year. Yes, that is correct.
There are so many exciting and sought-after neighborhoods in Parker, Colorado, that it can be hard to know where to start. The Timbers neighborhood is a wonderful place to consider moving to. Hopefully, this helps you learn more about the area.
If you haven't found the home you love, make sure to connect with us. Visit our contact page and we'll reach out to you personally and promptly. We've been selling homes for years in Parker and can help you find just what you're looking for. Thanks for visiting!